Macomb Twp MI Real Estate
Macomb Township Homes For Sale
Macomb Twp MI Real Estate Listings - All Macomb Twp MI real estate listings. Search 9,100+ Macomb Twp MI Real Estate Listings including Macomb Twp MI Real Estate with photos. Real Estate Search includes entire MLS and Homes For Sale including Macomb Twp MI Real Estate Listings plus nearby counties.
Macomb Twp MI Real Estate - Homes And Condos
Macomb Twp MI Real Estate provides the perfect place to live for all types of people. As a growing suburb of Detroit, Michigan, Macomb Twp provides the unique chance to live in town that's both active and peaceful. Owning Macomb Twp MI Real Estate allows you to experience a town that is bustling with activity, yet able to offer the relaxing atmosphere you can't find in the city.
Macomb Homes For Sale is located in northern Michigan. In fact, Macomb Twp MI real estate is known for the amazing opportunities it offers to keep residents entertained and active. There's plenty to do in and around the Macomb Twp. Many people travel to the area to shop the latest fashions at the Partridge Creek shopping center in the nearby Clinton Township. It offers popular brands like Aldo, Apple, Eddie Bauer, Francesca's and more. It is the perfect stop for back-to-school outfits and gifts for friends and yourself.
Macomb Twp MI offers plenty of things to do. There is plenty of stores in Macomb Twp. After shopping, you can watch a movie at the Emagine Macomb Theater, which offers the latest movies. Macomb Twp MI Real Estate has grown to offer everything you could need right in one town.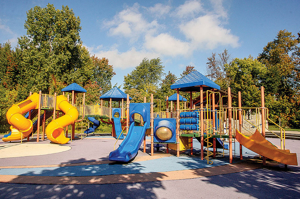 If you love outdoor activities, Macomb Twp MI Real Estate offers it all. Waldenburg Park has the honor of being the township's first park. The park offers it all for active and engaged families. It has a playground, picnic areas, basketball courts and nature paths. For the more active outdoor individual, Macomb Corners Park has six baseball diamonds, eight soccer fields, two sand volleyball courts, a skating rink and walking paths. It offers activity for all members of the family, so everyone can be active and healthy.
Macomb Twp MI Real Estate also offers residents a rich offering of sports in the township and Macomb Twp makes it easy for everyone from single to retirees to enjoy the outdoors and to remain healthy and to also raise healthy and active children.
During the summer, the parks offer special fun activities like Movie Under the Stars and Music in the Park. The sense of community is incredible. People come out to socialize and make friends. Those who live in Macomb Twp recognize how friendly and neighborly it is. In the colder months, you can keep active inside the Macomb Twp Recreation Center, which offers a fitness center, gyms, an indoor playground, pools and even a lazy river! It's the township's very own water park exclusively for members of the community. You can sign up for fitness classes and even use the center to host birthday parties.
Macomb Twp MI Schools
What really sets Macomb Twp MI real estate apart from other areas, is its public schools. It has four public school districts that service its neighborhoods: Chippewa Valley Schools, L'Anse Creuse Public Schools, New Haven Community Schools and Utica Community Schools. Schools offer many sports teams, including football and hockey. Your child will get a quality education if raised in the Macomb Twp. Here, people value education and prioritize learning. Education and school safety in Macomb Twp makes it a unique and rich town to live in. It is easy to find the school that best suits your children due to the numerous schools that serve the community.
Macomb Twp MI Real Estate
Macomb Homes For Sale MI
You will find plenty of homes for sale in Macomb Twp at affordable prices on MacombTwpMIRealEstate.com. Be sure to save a search. We have every listing in the Realtor MLS updated constantly to make sure you get access to Macomb Count Real Estate Listings first. -TJ Francisco